Daniel Morris

Vocals, bass guitar

Jeremy Williams

Acoustic guitar, bass guitar, percussion, drum loops

Dave Rees

Electric guitar, acoustic guitar
[an error occurred while processing this directive]
Like what you hear? Think it's shite? Visit our message board and let us know.
Buddha Jones tee-shirts? Believe it. Visit our store of love over at cafepress.com and be the first person in your office to sport Buddha threads.


[an error occurred while processing this directive] visitors since July 6, 2001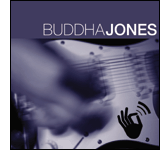 In May 2000, over a game of pool at the Los Angeles Beverly Hilton, Daniel Morris told Jeremy Williams that he had written an interesting hook, and proceeded to sing the chorus to Weary Girl. A year later, in June 2001, having adopted lead guitarist Dave Rees and the name Buddha Jones, they ordered 100 commercial CDs pressed with 13 songs digitally recorded on Jeremy's living room computer.
The year in between was filled with weekly sessions at Jeremy's house, hardware purchases, software experiments, and hundreds upon hundreds of hours sat in front of a computer monitor tweaking the volume, pan, and effect of each instrument.
The music is largely inspired by pop radio, and a notion that "we could do better than that", as well as a common interest in blues, reggae, funk, and hip-hop.

The album is testament to the band's ideal of independent production, as well as an experiment in home brewed recording. Given that we had no experience laying tracks and mixing them before embarking on the project, several early-recorded songs had to be completely redone to match the higher fidelity of later ones. The primary tools were Sonic Foundry's ACID and Vegas Video packages, both invaluable. You'll find the quality is a huge leap over the flat four-track sound available to broke artists of past decades.
As for what's next, it mostly depends on the feedback we get from this debut. If it's at all positive, we'll consider returning to the living room to expand on what we learned. We hope you like what you hear, and if you have any feedback we'd love to hear from you.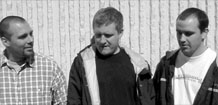 Dave Rees (e-mail)
Jeremy Williams (e-mail)
Daniel Morris (e-mail)

Graphics and album design by Jay Vidheecharoen
(www.redeyetype.com)